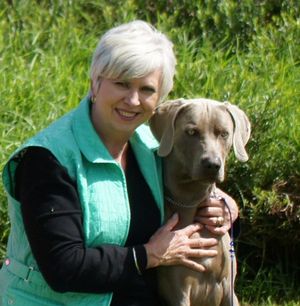 Mrs Lois Richter

Waldwiese Weimaraners & Golden Retrievers

South Australia
 
My involvement with the pedigree dog world commenced with the purchase of my first Weimaraner in 1976. This bitch went on to be a show champion, gain an obedience title, and be the first Weimaraner to win Best In Show (over 1,000 entries) in South Australia. She was the foundation to my Waldwiese Prefix. My daughter Claire is now an active part of the kennel partnership and has been a very successful Junior handler winner and handler judge. In 2000 a Eurasier joined our family and was very successful in the show ring considering the rarity of the breed in Australia. In 2008 our family was joined by a Golden Retriever and recently produced our first litter of this lovely breed.



Over the past 35 years my involvement in the dog world has included:



Ø Breeder of 29 litters of Weimaraners, resulting in 35 champions, 4 Grand Champions many obedience and tracking tilted dogs, 2 Dual /Obedience Champion litter sisters and 6 Dual Champion (Tracking).

Ø I am currently licensed to judge all Gundog Breeds (Sporting), Hounds and Terriers at Championship level.

Ø I was on the Board of Directors of the South Australian Canine Association for 5 years.

Ø I am a Life Member and current Secretary of the Weimaraner Club of SA.

Ø I have presented the Breed Lecture to Trainee Judges on both the Weimaraner and the Eurasier for many years.

Ø I am a fully qualified Obedience Instructor and a trainee Tracking judge.

Ø I have successfully trained several dogs to the highest level of Obedience and Tracking.

Ø I have judged Weimaraner Specialties in Budapest, New South Wales, Queensland, Victoria and twice in New Zealand and Gundog Specialties in South Australia, Tasmania, Victoria, Australian Capital Territory, New South Wales and the Northern Territory. I have also judged Gundogs in New Zealand, Victoria and South Australia. I have judged Terriers at Championship level in South Australia and NSW.

Ø I have judged Labrador, Golden Retriever and German Shorthaired Pointer Open Show Specialties and German Shorthair Pointer and German Wirehaired Pointer specialties in Victoria and the Cocker Spaniel Championship Show in SA.

Ø I have a special interest in Labradors and Golden Retrievers, having co-owned and handled several to their show titles.

Ø In 1997 I attended the Weimaraner Klub of Germany Centenary Breed Show and Hunting Tests in Weimar.

Ø In 1998 I attended the Weimaraner Club of America National Show in Sacramento, California.

Ø I attended the 2008 Weimaraner Club of America National in Rhode Island, Windsor Dog Show in the UK and the World Dog Show and Weimaraner Specialty in Sweden.
To Contact Lois Richter
mob: 0408080876
Email her at lois.waldwiese@gmail.com