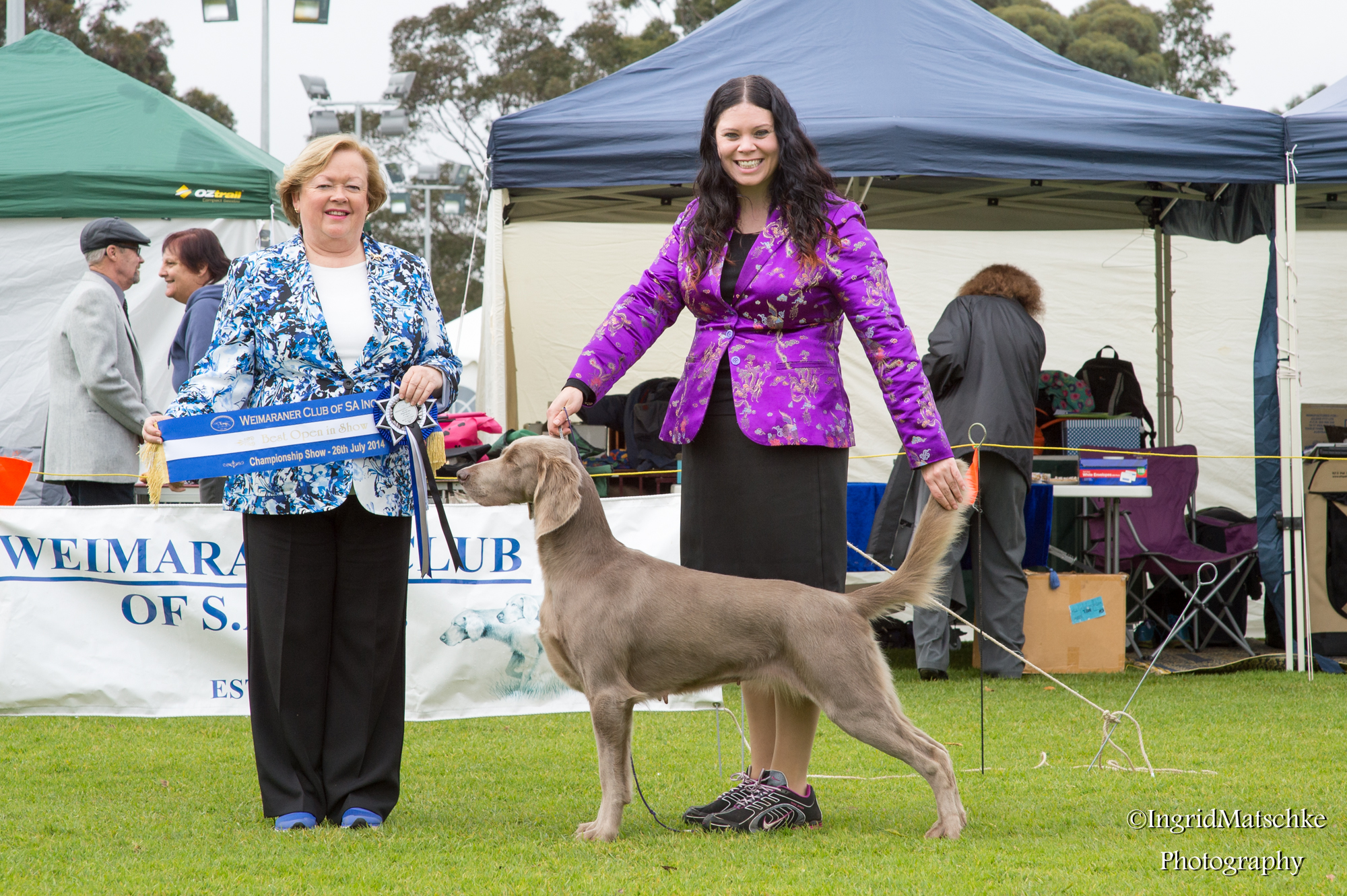 MBISS/MRUBISS/RUBIS AUST DUAL CH (T) SUPREME CH Waldwiese Y Would You (LH) TD,TDX, TSD

'MeeMo' 
Sire :

Grand Ch / Dual Ch (T)

Waldwiese Ndoubt About It TD, TDX
Sire: Aust DUAL CH Waldwiese So Dam Hot TD, TDX

Aust 1st and only Longhair Supreme Champ and youngest female (long or short)


DOB: 23/1/09
HIPS: 1:1 =2 (EX- A) Elbows 0:0
MEEMO WINS WEIMARANER CLUB OF SA 2009 TOP SHOWING WEIM LH BITCH

AUSTRALIA'S YOUNGEST WEIMARANER BITCH
Meemo Finishes her Grand CH With 3 x BEST IN GROUP and A RUNNER UP BEST IN SHOW -ALL BREEDS

Weimaraner Club of SA 2011 Meemo Goes BEST IN SHOW
Judge Mrs I Albion (Grausturm Weimaraners) "Lovely balanced bitch good neck into shoulder. Excellent forechest. Excellent angulation front and rear. Excellent topline, ground covering and flowing on move. Lacks bit of tail feathering not uncommon in entire females."

***Meemo Goes BEST IN SHOW at the weimaraner Club of Vic Champ show 2011***

Also 2011 Adel royal and Melb royal BOB LH winner



**2009 & 2010 #1 LH Weimaraner in AUSTRALIA = DOL***



WEI CLUB NSW 10th Oct 2010
Meemo Wins RUNNER UP BEST IN SHOW with just under 70 weimaraners entered.

Melb 2009 Meemo wins Runner up Best of Breed at Melb Royal then at the weim shows
Meemo Win BEST IN SHOW (CH) under a USA Judge (first ever LH weim to do so), she also takes out Best Puppy in show at both weim shows.

15th July 2012 Meemo gains her TD


MEEMO MEEMO MEEMO What to say about this bundle of Fire.
Meemo is from a litter of 10 puppies 8 boys(1 longhair) and 2 longhair girls our very own 1st home bred LH's in over 33 Years.

We repeated our 'W' litter to keep a girl, so be it, a longhair girl.

You ask 'Y Would You?' we say 'Y not!'.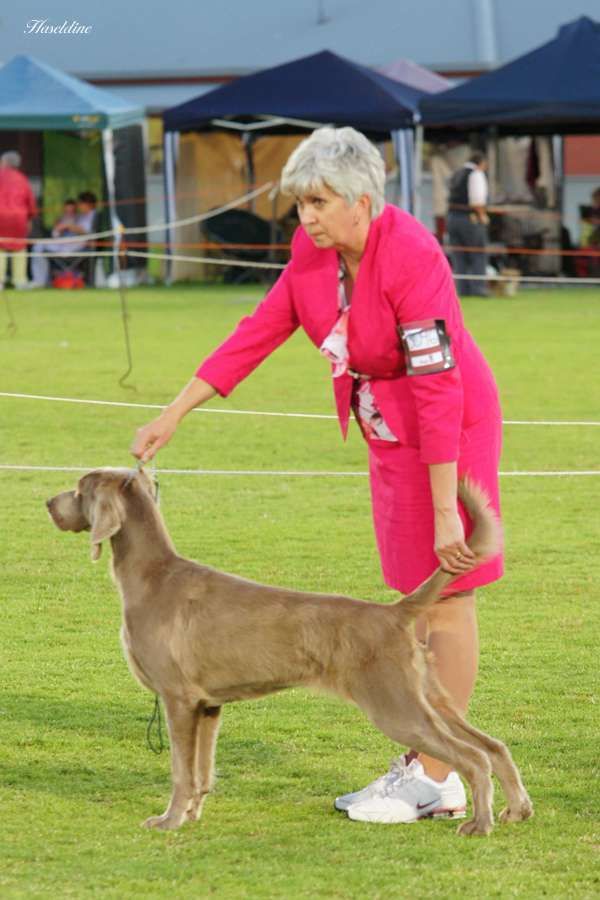 We hope that Meemo will be everything we wish for. 
Meemo has started her show career with several Baby In Group wins against very strong competition. Meemo has the bone and subtance and the strong ground covering movement of both her parents. We are excited about our newest addition and feel she will be an asset to the breed.
Keep a Eye out for here Sister Winnie(WA), Brother Traeger (VIC) and Brother Harley (QLD) 
Meemo Goes Best of Breed Adelaide and Melbourne Royal 2010
6/
9
/09
***Meemo win Runner Up Best in SHOW***
Weimaraner Club SA
Judge Anne-Marrie Curran

"What a cracker. A beautifully made and typical young feminine bitch. Well balanced and proportioned. Overall, a fabulous picture on the stand and in motion.
CHALLENGE BITCH & R/UP IN SHOW & Puppy In Show. Very well deserved by this glorious young bitch"
23 Aug 2009
**MEEMO WINS RUNNER UP BEST IN GROUP
on the day of turning 7mths old, 220 gundogs entered.**
7 x BABY IN GROUP
1 X BABY IN SHOW
6x PUPPY IN GROUP
4X S/ PUPPY IN SHOWS
3x RUNNER UP IN GROUP
1 x BEST IN GROUP
2X S/ RUNNER UP BEST IN SHOW
3x Royal BOB
1 x Royal RUBOB
1x S/ BEST IN SHOW
2X Puppy in Show (AB)
and the List goes on & on

2009
Meemo 1# all breeds LH Weim in AUST
1# Rising Star Lh Weim
#5 Rising Star Gundog in SA
#18 Top Gundog in SA
245 Points 
#1 breeder/Exhibitor LH Wei - All breeds and Rising Star
ALL in ONLY 8 Mths of showing

2010
13TH MARCH 2010
*** MEEMO GAINS HER LAST FEW 25 PONITS AND NOW IS A AUST CH**
Meemo is #1 LH in Australia DOL All breeds
nearly 700 points
BOB Adel and Melbourne Royal
Wei Club SA- Top Showing LH