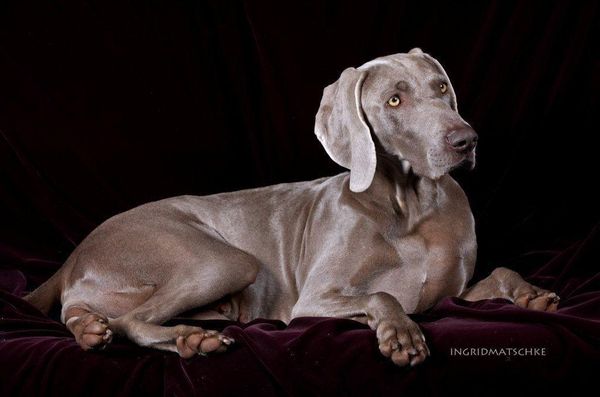 BIS/BISS AUST GRAND CH Waldwiese Vue From ThTop TD
'Luna'
DOB: 26/5/2007


Tragically We Lost Luna to Bloat while we were in Melb for the Royal and
weimaraner Show on the weekend.

Luna was more than a beautiful show dog, she was a big part of our family, a
clown and loving favorite companion to Claire's boys Ashton and Connor. She was
Lauren's super show girl, Lois's successful tracking dog and Claire's beloved
baby. Thank you to the ONLY vet we could find in Geelong who answered their
phone on a Sunday morning, Dr Sally Upham. Sally worked so hard to keep Luna
going, even giving her CPR in the back of the car on the 30 minute trip to the
Werribee Vet Hospital. The staff at the hospital tried so hard to keep our Luna
Moon alive and their sympathy and understanding helped us in our distress.


LUNA
Tragically died on 19/9/2010
FOREVER YOUNG
RIP LUNA MOON
----------------------
They say memories are golden, well, maybe that is true.
We never wanted memories, we only wanted you.
A million times we cried.
If love alone could have saved you, you never would have died.
In life we loved you dearly, in death we love you still.
In our hearts you hold a place no one else could fill.
If tears could build a stairway and heartache make a lane.
We'd walk the path to Heaven and bring you back again.
Our family chain is broken, and nothing seems the same.
But as God calls us back one by one, the chain will link again
AUTHOR: 
VICKY HOLDER
---------------------
All Is Well:

Death is nothing at all,
I have only slipped into the next room
I am I and you are you
Whatever we were to each other, that we are still.
Call me by my old familiar name,
Speak to me in the easy way which you always used
Put no difference in your tone,
Wear no forced air of solemnity or sorrow
Laugh as we always laughed at the little jokes we enjoyed together.
Play, smile, think of me, pray for me.
Let my name be ever the household world that it always was,
Let it be spoken without effect, without the trace of shadow on it.
Life means all that it ever meant.
It it the same as it ever was, there is unbroken continuity.
Why should I be out of mind because I am out of sight?
I am waiting for you, for an interval, somewhere very near,
Just around the corner.
All is well.
By Henry Scott Holland
-------------------------
THE BROKEN CHAIN
We little knew that morning, the end
was going to call your name.
In life we loved you dearly
and in death we do the same.
It broke our hearts to lose you,
but you did not go alone;
for part of us went with you,
the day you were called home.
You left us peaceful memories,
your love is still our guide;
and though we cannot see you,
you are always at our side.
Our family chain is broken,
and nothing seems the same;
but as we are called one by one,
the chain will link again.
Author: Ron Tranmer
-------------------
A Star among dogs with a heart of pure gold
The Weimaraner's loyal, courageous and bold
A love of adventure, a passion for play
A Friend to confide in when bright skies turn grey
Curled up by my chair when the day finds its end
I'm blessed that I loved you - Luna, my friend
-----------------
---



LUNA TAKES OUT BEST IN GROUP 20/6/10 making her a GRAND CH at 3 yrs and 3 wks under the new Grand ch rules.


2009 Weimaraner Club of SA Luna wins
TOP SHOWING WEIM
VERSATILE BITCH
TOP POINTSCORE BITCH
TOP TRACKING WEIM



HIP SCORE=1:1= 2, AUSTRALIAN GRADE=0, INTERNATIONAL GRADE=A, ELBOWS=0, INTERNATIONAL GRADE=A(WYBURN AVA)


***25/07/09 LUNA WINS BEST IN GROUP Under Mrs L More(USA) & BEST IN SHOW under Mrs J Rusby (CAN)*** & Following day wins BEST IN GROUP under Mr Pybus (CAN)

***7/9/08 LUNA WINS BEST IN SHOW AT WEIMARANER CLUB OF SA 2008 CHAMP SHOW UNDER D HOWELL ***

"I preferred this bitch. She had better length. Moved out carried her topline well. Could have had a bit
more angles in her head. Good lay of shoulder. Moved out nice behind. Even though only 16 monthsa very stylish bitch.
Good length of rib. Liked this bitch on the move. Even though she was young she has the correct length of leg under her. Good ribbing. Just a quality bitch. BEST IN SHOW"


LUNA WINS BEST IN SHOW AT WEIMARANER CLUB OF SA CHAMP SHOW in 2009 UNDER Anne-Marie Curran

"Beautifully made and well proportioned quality bitch of good type. Very feminine. Moved lightly on her feet with a good gait all round. An overall lovely picture.
Easily won the challenge. Fabulous carriage and style presenting a beautiful picture in the line up. Well deservant of the Best In Show Award"







2009
Top Weim in SA - DOL Breed and all breed's tally
#2 Female Weim in Aust - DOL Breed Score
#3 Weim in Aust- DOL Breed tally
#1 breeder/Exhibitor - Breed score DOL tally
#5 All breeds Weim Tally
#6 Gundog in SA
 
AM Ch Nani's Perfect Cadence CD JH V BROM

Am Ch Colsidex Th Farms Reflection