2010 NEWS

---
NOV
Are dear Ginja Ninja "Jarno" has gone back to NZ now hes a Aust Ch to his Breeder Bianca. This is Bianca's 2nd Aust Ch this year. WELL DONE :o)


---

OCT: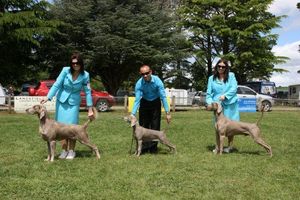 Breeders Team Meemo and Lauren, Moet and Michael and Ziggy and Claire

Bree's Babies are here - 25th Oct 2010
3 boys and 3 girls all doing great


---
SEPT :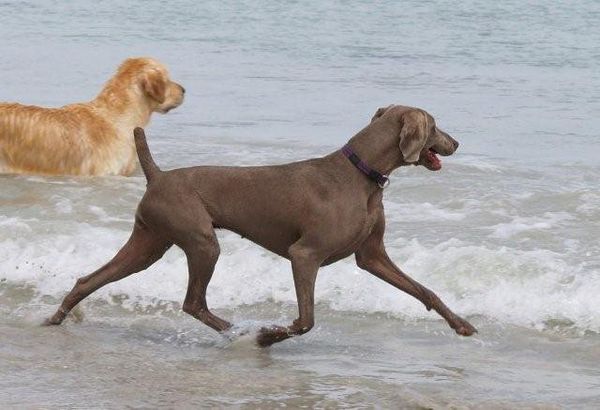 RIP LUNA MOON
FOREVER YOUNG
26/5/2007- 19/9/2010
          
Tragically We Lost Luna to Bloat while we were in Melb for the Royal and
weimaraner Show on the weekend.

Luna was more than a beautiful show dog, she was a big part of our family, a
clown and loving favorite companion to Claire's boys Ashton and Connor. She was
Lauren's super show girl, Lois's successful tracking dog and Claire's beloved
baby. Thank you to the ONLY vet we could find in Geelong who answered their
phone on a Sunday morning, Dr Sally Upham. Sally worked so hard to keep Luna
going, even giving her CPR in the back of the car on the 30 minute trip to the
Werribee Vet Hospital. The staff at the hospital tried so hard to keep our Luna
Moon alive and their sympathy and understanding helped us in our distress.


 
---

AUG




Wasabi Gains her Tracking Ch and Becomes our 7th DUAL CH, this is the Only weimaraner Kennel in Aust to have Bred this many Dual Ch's.

---
JULY
Ziggy gains his Aust Ch
Faith has her Puppies
Wasabi gains her TDX


---

JUNE

LUNA GAINS HER AUST GRAND CH

Meemo has her Hips and Elbows scored with great results
HIPS: 1:1 (A) ELBOWS: 0:0 (A)



---

MARCH



13th March- Well Meemo did it, she gained those last 25 points after she tuned 12mths and is now AUST CH WALDWIESE Y WOULD YOU (LH). A HUGE thanks to Lauren for all our help and also to all our suport group around the world who have only ever loved this girl- You all know who you are. 8-)



---
Feb 2010




Well not to be out done by her brother Harley "Winnie" also gained her AUST CH on the weekend 28th Feb, she is now know as AUST CH WALDWIESE YOU MIGHT WONDER (LH) (13mths 5 days) owned and Loved by Jane Dupre SilverGrayce Weims in WA- WELL DONE





Well we would like to say a HUGE congrats to our first ever LH Aust Ch (from first LH breeding for Waldwiese)
"Harley" AUST CH WALDWIESE YOU DOUBTING ME (LH) (12mths 3 wks old) Owned by Christeen and Team Kadma in Qld- Well done everyone.

Hot on Harley's heels are Winnie and Meemo just looking for those last few point after the turned 12mths

31st April-2nd May is the Weimaraner National held here in South Australia for any details go to www.weiclubsa.com

---


Well a great start to the year with Bree our Kiwi Golden gainning her final 25 points after she turned 12 mths and now is AUST CH Riverstone In Your Dreams At Waldwiese (AI) Imp NZ  and also poss the youngest Kiwi to gain her Aust CH at 12mths 3 weeks.

Meemo has ended her Puppy class with another PUPPY IN GROUP, she will see Junior Class at the end of Jan.

2009 seen our Waldwiese show team win on DOL:

LUNA:
#1 Weim in SA (BPS)
#1 Weim in SA (ABPS)
#3 Weim in Aust (BPS)
#2 Female In Aust (BPS)
#1 Breeder/Exh (BPS)
#5 Weim All Breeds
#6 Gundog in SA

MEEMO:
#1 Weim LH All Breeds
#1 Rising Star LH Weim
#5 Weim LH (BPS)
#1 Breeder/Exh (BPS/ RS)
#5 Rising Star Gundog in SA

BUSA:
#2 Male Weim in SA
#1 Rising Star Weim in SA
#10 Rising Star Weim in Aust

ZIGGY:
#2 Rising Star Weim in SA

XENA: 
#3 Weim in SA (BPS)

Wasabi
#4 Weim in SA (BPS)

WALDWIESE:
#1 Weim Breeder in SA
#1 LH Weim Breeder in SA
#3 Weim Breeder in Aust
#4 LH Weim Breeder in Aust
#2 Gundog Breeder in SA